I've been going to the Maker Faire on and off over the years since it first started in 2006. The original one in San Mateo is spectacular, but it has gotten so big and crowded in the past few years that it's just not as enjoyable to me anymore as it was before it got super-crowded.
But the East Bay Mini Maker Faire, which just happened last weekend? Just the right size. Community-sized, and if you live in the area, there's a good chance you will run into more than one maker or attendee that you know.
At last weekend's event, I got to wear a "Maker" badge for the first time. I was helping the Alameda County Beekeepers Association, showing off a demonstration hive to visitors, answering questions, giving advice, and occasionally selling a jar of honey that came from my bees or from one of the other booth volunteer's beehives.
Is being a beekeeper really being a "maker" in the strictest sense of the word? Sometimes I would ask children at the booth just who were the makers at our booth, and they would invariably point to the bees. So, tongue in cheek, I covered up the "M" on my badge and hand-drew the letter "T" so it read TAKER.
Even if I'm merely taking care of the bees and collecting their excess honey from time to time, it's an activity that I enjoy becuase it's doing something in the real world, not the virtual world of websites and programming. It's a nice occasional break from my "day job" to check on the hives, collect honey, rescue a springtime swarm, and so forth.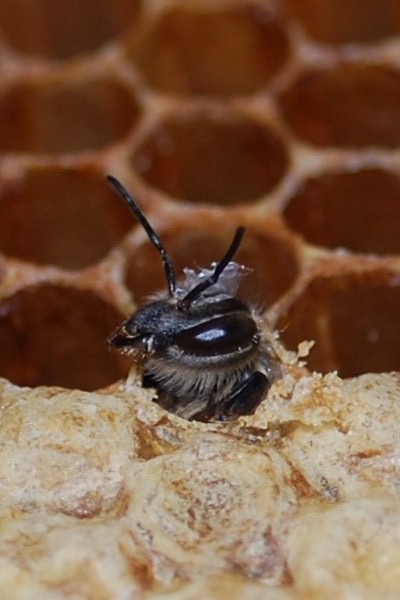 Truly the best part of my experience at the beekeeper's booth this last weekend was talking to the kids who came up to see what was going on. They all had lots of questions, and many of them were starting from a good foundation of knowledge. (Are you having problems with hives dying out? Is the queen here in this hive? etc.)
Every kid — and just about every adult — who saw what I pointed out in the demonstration hive was excited and fascinated. The frames that could be seen thorugh the plexiglass were covered with brood (egg) cells, and throughout the day, it was pretty easy to notice a few "new bees" starting to hatch out of their cells. Maybe you could just barely see the antennae wingling out from a chewed-open hole in the cell, or maybe the bee had gotten its entire head out and was slowly emerging. 
If you live near a Maker Faire — one of the main ones or a "mini" maker faire, I can't recommend strongly enough that you check one out. They are happening all over the world.