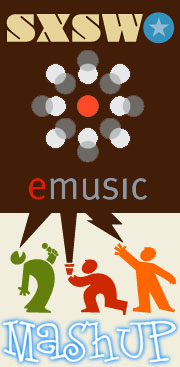 How to discover and get some great new music:
Slog through the music and find the songs that you actually like; throw away the junk.
Get thee to eMusic and start searching for the artists that you liked. Amazing how many artists you are likely to find!
Download albums from these bands. When you run out of music credits, well you gotta wait until next month or boost your subscription.
I have used emusic before, but now that I had the idea of finding bands from the songs I've found at SXSW, I now have dozens and dozens of albums that I'm ready to download.
If you like discovering new music, try this out!
(OK, this is a conceptual mashup, not a web 2.0 implementation ... that would be cool! And it has nothing to do with musical mashups!)