People who are used to weblogs know exactly what those little orange RSS (or XML) badges are for ... you drag the link into your newsreader to subscribe to the feed. But not everybody may know what the heck those little things are. For the nonprofit that I work with, our
home page
is actually a weblog, complete with an RSS feed. But is the average surfer going to know the power behind the little orange icon? The page that results from clicking on that link would look like pure gobbledygook to the untrained eye! So I did a little bit of JavaScript trickery to pop up an explanatory window should somebody happen to click on the icon. (Try it below, assuming you are viewing this on your browser!)
---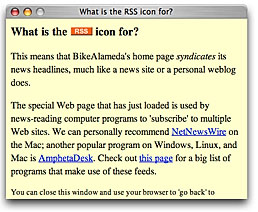 This window pops up to explain what the icon is for, complete with pointers to
NetNewsWire
(of course!),
AmphetaDesk
, and
two
lists
of other newsreaders for the reader to explore. But the actual
link
is unchanged, so you can still drag the icon into NetNewsWire.
How it works:
If you want to try something similar on your weblog, you can take a look at the source to this page to see the JavaScript. The web page that displays the message is
here
; feel free to adapt for your own purposes. Any suggestions on how to make this even clearer for newbies? Drop me a line at the feedback address below!