If you are programming to target Leopard, a lot of common graphics can be found using -[NSImage imageNamed:]. Not every generic graphic can be found there; there are a lot of images in /System/Library/CoreServices/CoreTypes.bundle/Contents/Resources/.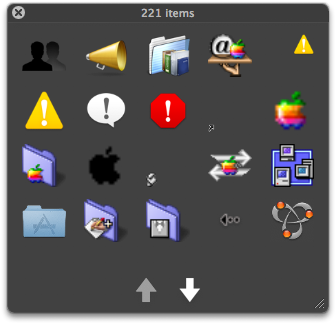 It's certainly worth exploring the contents of this folder and possibly making use of the images. But since these images are not documented as an API, you will need to be sensitive to whether or not these images are still part of upcoming — or legacy — versions of Mac OS.
Since Sandvox is targetting either Tiger or Leopard, we have to be careful not to make use of a graphic that is in one big cat and not the other.
For our convenience, and for yours, I created a "diff" showing the contents of the Tiger vs. Leopard contents of the graphic files in that folder, after the break.
---

TIGER                                     LEOPARD

ADCReferenceLibraryIcon.icns              ADCReferenceLibraryIcon.icns
AFPServerIcon.icns                        AFPServerIcon.icns
                                        > Accounts.icns
                                        > Actions.icns
AlertCautionBadgeIcon.icns                AlertCautionBadgeIcon.icns
AlertCautionIcon.icns                     AlertCautionIcon.icns
AlertNoteIcon.icns                        AlertNoteIcon.icns
AlertStopIcon.icns                        AlertStopIcon.icns
AliasBadgeIcon.icns                       AliasBadgeIcon.icns
AppleLogoIcon.icns                        AppleLogoIcon.icns
AppleMenuFolderIcon.icns                  AppleMenuFolderIcon.icns
AppleMenuIcon.icns                        AppleMenuIcon.icns
AppleScriptBadgeIcon.icns                 AppleScriptBadgeIcon.icns
AppleTalkIcon.icns                        AppleTalkIcon.icns
AppleTalkZoneIcon.icns                    AppleTalkZoneIcon.icns
ApplicationSupportFolderIcon.icns         ApplicationSupportFolderIcon.icns
ApplicationsFolderIcon.icns               ApplicationsFolderIcon.icns
AssistantsFolderIcon.icns                 AssistantsFolderIcon.icns
BackwardArrowIcon.icns                    BackwardArrowIcon.icns
                                        > Bonjour.icns
                                        > BurnableFolderIcon.icns
BurningIcon.icns                          BurningIcon.icns
CDAudioVolumeIcon.icns                    CDAudioVolumeIcon.icns
ClassicSystemFolderIcon.icns            <
ClippingPicture.icns                      ClippingPicture.icns
ClippingSound.icns                        ClippingSound.icns
ClippingText.icns                         ClippingText.icns
ClippingUnknown.icns                      ClippingUnknown.icns
                                        > Clock.icns
ColorSyncFolderIcon.icns                  ColorSyncFolderIcon.icns
ColorSyncProfileIcon.icns                 ColorSyncProfileIcon.icns
ConnectToIcon.icns                        ConnectToIcon.icns
ContextualMenuItemsFolderIcon.icns        ContextualMenuItemsFolderIcon.icns
ControlPanelDisabledFolderIcon.icns       ControlPanelDisabledFolderIcon.icns
ControlPanelFolderIcon.icns               ControlPanelFolderIcon.icns
DeleteAliasIcon.icns                      DeleteAliasIcon.icns
DesktopFolderIcon.icns                    DesktopFolderIcon.icns
DeveloperFolderIcon.icns                  DeveloperFolderIcon.icns
DisconnectedFileServerIcon.icns           DisconnectedFileServerIcon.icns
DocumentsFolderIcon.icns                  DocumentsFolderIcon.icns
                                        > DownloadsFolder.icns
                                        > DropFolderBadgeIcon.icns
DropFolderIcon.icns                       DropFolderIcon.icns
EjectMediaIcon.icns                       EjectMediaIcon.icns
ErasingIcon.icns                          ErasingIcon.icns
                                        > Everyone.icns
ExecutableBinaryIcon.icns                 ExecutableBinaryIcon.icns
ExtensionsDisabledFolderIcon.icns         ExtensionsDisabledFolderIcon.icns
FTPServerIcon.icns                        FTPServerIcon.icns
FavoriteItemsIcon.icns                    FavoriteItemsIcon.icns
FileVaultIcon.icns                        FileVaultIcon.icns
FinderIcon.icns                           FinderIcon.icns
FontsFolderIcon.icns                      FontsFolderIcon.icns
ForwardArrowIcon.icns                     ForwardArrowIcon.icns
FullTrashIcon.icns                        FullTrashIcon.icns
                                        > General.icns
                                        > GenericAirDiskIcon.icns
GenericApplicationIcon.icns               GenericApplicationIcon.icns
GenericDocumentIcon.icns                  GenericDocumentIcon.icns
GenericEditionFileIcon.icns               GenericEditionFileIcon.icns
GenericFileServerIcon.icns                GenericFileServerIcon.icns
GenericFolderIcon.icns                    GenericFolderIcon.icns
GenericFontIcon.icns                      GenericFontIcon.icns
GenericNetworkIcon.icns                   GenericNetworkIcon.icns
                                        > GenericPCIcon.icns
GenericPreferencesIcon.icns               GenericPreferencesIcon.icns
GenericQuestionMarkIcon.icns              GenericQuestionMarkIcon.icns
GenericRAMDiskIcon.icns                   GenericRAMDiskIcon.icns
GenericSharedLibraryIcon.icns             GenericSharedLibraryIcon.icns
                                        > GenericSharepoint.icns
GenericStationeryIcon.icns                GenericStationeryIcon.icns
                                        > GenericTimeMachineDiskIcon.icns
GenericURLIcon.icns                       GenericURLIcon.icns
GenericWindowIcon.icns                    GenericWindowIcon.icns
GridIcon.icns                             GridIcon.icns
GroupFolder.icns                          GroupFolder.icns
GroupIcon.icns                            GroupIcon.icns
GuestUserIcon.icns                        GuestUserIcon.icns
HTTPServerIcon.icns                       HTTPServerIcon.icns
HelpFolderIcon.icns                       HelpFolderIcon.icns
HelpIcon.icns                             HelpIcon.icns
HomeFolderIcon.icns                       HomeFolderIcon.icns
IPFileServerIcon.icns                     IPFileServerIcon.icns
InternetFolderIcon.icns                   InternetFolderIcon.icns
InternetLocationAFP.icns                  InternetLocationAFP.icns
InternetLocationFTP.icns                  InternetLocationFTP.icns
InternetLocationFile.icns                 InternetLocationFile.icns
InternetLocationGeneric.icns              InternetLocationGeneric.icns
InternetLocationHTTP.icns                 InternetLocationHTTP.icns
InternetLocationMAILTO.icns               InternetLocationMAILTO.icns
InternetLocationNEWS.icns                 InternetLocationNEWS.icns
InternetPlugInFolderIcon.icns             InternetPlugInFolderIcon.icns
KEXT.icns                                 KEXT.icns
KeepArrangedIcon.icns                     KeepArrangedIcon.icns
LibraryFolderIcon.icns                    LibraryFolderIcon.icns
LocalesFolderIcon.icns                    LocalesFolderIcon.icns
LockedBadgeIcon.icns                      LockedBadgeIcon.icns
LockedIcon.icns                           LockedIcon.icns
MagnifyingGlassIcon.icns                  MagnifyingGlassIcon.icns
MountedBadgeIcon.icns                     MountedBadgeIcon.icns
MountedFolderIcon.icns                    MountedFolderIcon.icns
MovieFolderIcon.icns                      MovieFolderIcon.icns
                                        > MultipleItemsIcon.icns
MusicFolderIcon.icns                      MusicFolderIcon.icns
NetBootVolume.icns                        NetBootVolume.icns
                                        > NewFolderBadgeIcon.icns
NoFilesIcon.icns                          NoFilesIcon.icns
NoFolderIcon.icns                         NoFolderIcon.icns
NoWriteIcon.icns                          NoWriteIcon.icns
OpenFolderIcon.icns                       OpenFolderIcon.icns
OwnedFolderIcon.icns                      OwnedFolderIcon.icns
OwnerIcon.icns                            OwnerIcon.icns
PicturesFolderIcon.icns                   PicturesFolderIcon.icns
PreferencesFolderIcon.icns                PreferencesFolderIcon.icns
Preview.icns*                           <
PrintMonitorFolderIcon.icns               PrintMonitorFolderIcon.icns
PrinterDescriptionFolderIcon.icns         PrinterDescriptionFolderIcon.icns
PrinterDriverFolderIcon.icns              PrinterDriverFolderIcon.icns
                                        > PrivateFolderBadgeIcon.icns
PrivateFolderIcon.icns                    PrivateFolderIcon.icns
                                        > ProfileBackgroundColor.icns
                                        > ProfileFont.icns
                                        > ProfileFontAndColor.icns
ProtectedApplicationFolderIcon.icns       ProtectedApplicationFolderIcon.icns
ProtectedSystemFolderIcon.icns            ProtectedSystemFolderIcon.icns
PublicFolderIcon.icns                     PublicFolderIcon.icns
                                        > ReadOnlyFolderBadgeIcon.icns
ReadOnlyFolderIcon.icns                   ReadOnlyFolderIcon.icns
RecentApplicationsFolderIcon.icns         RecentApplicationsFolderIcon.icns
RecentDocumentsFolderIcon.icns            RecentDocumentsFolderIcon.icns
RecentItemsIcon.icns                      RecentItemsIcon.icns
RecentServersFolderIcon.icns              RecentServersFolderIcon.icns
RightContainerArrowIcon.icns              RightContainerArrowIcon.icns
                                        > ScreenSharingIcon.icns
ScriptingAdditionsFolderIcon.icns         ScriptingAdditionsFolderIcon.icns
ScriptsFolderIcon.icns                    ScriptsFolderIcon.icns
SharedBadgeIcon.icns                      SharedBadgeIcon.icns
                                        > SharedComputers.icns
SharedFolderIcon.icns                     SharedFolderIcon.icns
SharingPrivsNotApplicableIcon.icns        SharingPrivsNotApplicableIcon.icns
SharingPrivsReadOnlyIcon.icns             SharingPrivsReadOnlyIcon.icns
SharingPrivsReadWriteIcon.icns            SharingPrivsReadWriteIcon.icns
SharingPrivsUnknownIcon.icns              SharingPrivsUnknownIcon.icns
SharingPrivsWritableIcon.icns             SharingPrivsWritableIcon.icns
ShortcutIcon.icns                         ShortcutIcon.icns
ShutdownItemsDisabledFolderIcon.icns      ShutdownItemsDisabledFolderIcon.icns
                                        > SidebarPrefs.icns
SitesFolderIcon.icns                      SitesFolderIcon.icns
SmartFolderIcon.icns                      SmartFolderIcon.icns
SortAscendingIcon.icns                    SortAscendingIcon.icns
SortDescendingIcon.icns                   SortDescendingIcon.icns
StartupFolderIcon.icns                    StartupFolderIcon.icns
StartupItemsDisabledFolderIcon.icns       StartupItemsDisabledFolderIcon.icns
StatusBarCDROMIcon.icns                   StatusBarCDROMIcon.icns
StatusBarTrashIcon.icns                   StatusBarTrashIcon.icns
                                        > Sync.icns
System                                    System
SystemExtensionDisabledFolderIcon.icns    SystemExtensionDisabledFolderIcon.icns
SystemFolderIcon.icns                     SystemFolderIcon.icns
TextEncodingsFolderIcon.icns              TextEncodingsFolderIcon.icns
ThemesFolderIcon.icns                     ThemesFolderIcon.icns
                                        > ToolbarAdvanced.icns
ToolbarAppsFolderIcon.icns                ToolbarAppsFolderIcon.icns
ToolbarCustomizeIcon.icns                 ToolbarCustomizeIcon.icns
ToolbarDeleteIcon.icns                    ToolbarDeleteIcon.icns
                                        > ToolbarDesktopFolderIcon.icns
ToolbarDocumentsFolderIcon.icns           ToolbarDocumentsFolderIcon.icns
                                        > ToolbarDownloadsFolderIcon.icns
ToolbarFavoritesIcon.icns                 ToolbarFavoritesIcon.icns
                                        > ToolbarInfo.icns
                                        > ToolbarLabels.icns
                                        > ToolbarLibraryFolderIcon.icns
ToolbarMovieFolderIcon.icns               ToolbarMovieFolderIcon.icns
ToolbarMusicFolderIcon.icns               ToolbarMusicFolderIcon.icns
ToolbarPicturesFolderIcon.icns            ToolbarPicturesFolderIcon.icns
ToolbarPublicFolderIcon.icns              ToolbarPublicFolderIcon.icns
                                        > ToolbarSitesFolderIcon.icns
                                        > ToolbarUtilitiesFolderIcon.icns
TrashIcon.icns                            TrashIcon.icns
UnknownFSObjectIcon.icns                  UnknownFSObjectIcon.icns
UnlockedIcon.icns                         UnlockedIcon.icns
Unsupported.icns                          Unsupported.icns
UserIcon.icns                             UserIcon.icns
                                        > UserUnknownIcon.icns
UsersFolderIcon.icns                      UsersFolderIcon.icns
dotMacNeighbourhoodIcon.icns            <
					> UtilitiesFolder.icns
                                        > VCard.icns
                                        > com.apple.airport-extreme.icns
                                        > com.apple.emac.icns
                                        > com.apple.ibook-g4-12.icns
                                        > com.apple.ibook-g4-14.icns
                                        > com.apple.imac-aluminum-20.icns
                                        > com.apple.imac-aluminum-24.icns
                                        > com.apple.imac-g4-15.icns
                                        > com.apple.imac-g4-17.icns
                                        > com.apple.imac-g4-20.icns
                                        > com.apple.imac-g5-17.icns
                                        > com.apple.imac-g5-20.icns
                                        > com.apple.imac-iSight-17.icns
                                        > com.apple.imac-iSight-20.icns
                                        > com.apple.imac-iSight-24.icns
                                        > com.apple.mac.icns
                                        > com.apple.macbook-black.icns
                                        > com.apple.macbook-white.icns
                                        > com.apple.macbookair.icns
                                        > com.apple.macbookpro-15.icns
                                        > com.apple.macbookpro-17.icns
                                        > com.apple.macmini.icns
                                        > com.apple.macpro.icns
                                        > com.apple.powerbook-g4-12.icns
                                        > com.apple.powerbook-g4-15.icns
                                        > com.apple.powerbook-g4-17.icns
                                        > com.apple.powerbook-g4-titanium.icns
                                        > com.apple.powermac-g4-graphite.icns
                                        > com.apple.powermac-g4-mirrored-drive-doors.icns
                                        > com.apple.powermac-g4-quicksilver.icns
                                        > com.apple.powermac-g5.icns
                                        > com.apple.time-capsule.icns
                                        > com.apple.xserve.icns
                                        > dotMacLogo.icns
iDiskGenericIcon.icns                     iDiskGenericIcon.icns
iDiskUserIcon.icns                        iDiskUserIcon.icns
iMac.icns                                 iMac.icns
                                        > public.generic-pc.icns