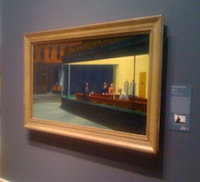 I love Nighthawks by Edward Hopper. So while I was pleased to see that Apple included the image (along with several other classic paintings) as desktop backgrounds in Snow Leopard, I was extremely disappointed that the quality of the image was just terrible.
I got the see the original at the Chicago Art Institute when I was at C4 last year, and I couldn't stand that the Mac, which stands for aesthetics, could have such a horrible image. You could even see artifacts from what looked like a broken digital scanner!
So, like any programmer would do, I filed a bug report <rdar://7152962> about it.
I'm pleased to see that Nighthawks has been fixed in Snow Leopard 10.6.3. The new image is awesome.

Compare the overall picture at 10,000 feet. The new version is on the right; its colors are richer and it is cropped differently; you can see the yellow door on the right, though you see one fewer window in the building in the background.
But you really can see the differences in the details. Check out the detail of the couple, shown at 100% size. Notice the odd horizontal lines in the first image; the new image is vastly improved!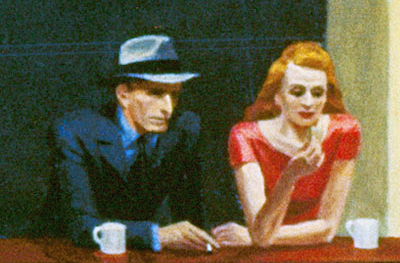 Nighthawks in 10.6.2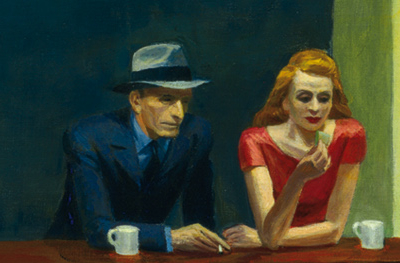 Nighthawks in 10.6.3
(When originally filing the bug report, I found this version, embedded in this page; it's very high in detail but a bit over-sharpened for my taste. Still, it's useful to see it in its uncropped glory; notice that there are four windows visible in the background building.)
Thanks for fixing it, Apple!